Alpha Summit Advisory Group
This advisory group works with CFA Institute staff to develop the program for our annual conferences. Drawing on their experience and knowledge of timely educational topics, group members provide guidance on the overall program plan as well as input on specific speakers and topics. Group members may also be involved with coordinating and/or moderating individual sessions at the conference.

Eelco Fiole CFA
Chair
Managing Partner, Alpha Governance Partners
Member of CFA Society Switzerland
Eelco Fiole, CFA is the managing partner of Alpha Governance Partners (founded 2015) a fiduciary services partnership with partners serving as risk governance specialists in complex investments, sustainability, blockchain, and fintech, across Europe, North America, and Asia. He is also an adjunct professor of finance ethics at the Universities of Lausanne and Neuchatel. With over 25 years in the finance industry, Dr. Fiole has 15+ years of board, COO, and CFO experience in the alternative investment, wealth, and blockchain spaces. Previous firms include ABN AMRO, UBS, Credit Suisse, and PwC. He is an eternal student holding degrees and designations in various domains, including economics (PhD, Basel), ethics, and blockchain. He is a Fellow of the Institute of Directors, volunteers in various capacities, and regularly speaks on governance, ethics, and risk.
Anish Chopra CFA
Managing Director, Portfolio Management Corporation
Member of CFA Society Toronto

Blair duQuesnay CFP, CFA
​Investment Adviser, Ritholtz Wealth Management
Member of CFA Society Louisiana
Blair duQuesnay, CFA, is an investment advisor at Ritholtz Wealth Management and a member of the firm's investment committee. She is an active financial commenter whose writing has been published in The New York Times and on her personal finance blog, The Belle Curve. Ms. duQuesnay has spoken at the CFA Institute Annual Conference, Morningstar Investment Conference, and CFA Institute Wealth Management Conference. She is also a former president of CFA Society Louisiana, where she continues to serve on the board. Ms. duQuesnay holds a BBA degree in finance from the University of Georgia.
Nathan Kowalski CFA
Chief Financial Officer and Senior Portfolio Manager, Anchor Investment Management Limited
Member of CFA Society Bermuda
Asjeet S. Lamba Ph.D., CFA
Associate Professor, The University of Melbourne
Member of CFA Society Melbourne
Asjeet S. Lamba, Ph.D., CFA, is Head of the Department of Finance at the University of Melbourne. His main research and teaching interests are in the areas of corporate finance, international finance, and financial markets. Professor Lamba has published over 35 articles, monographs and papers in several leading academic and practitioner outlets, and is the co-author of the Asia-Pacific edition of Investment Analysis and Portfolio Management published by Cengage Learning. He is the recipient of several research and teaching awards including the Ross Williams Career Achievement Award in Teaching.

As a CFA charterholder and an active volunteer at CFA Institute, Professor Lamba has been involved with reviewing and writing candidate curriculum material for several years. He has previously served on the CFA Institute's Disciplinary Review Committee and as a founding member of the CFA Institute's Asia-Pacific Research Exchange Society Engagement Committee. Professor Lamba has a BA (Honors) in Economics from the University of Delhi, an MBA in Finance from the University of Michigan, and a Ph.D. in Finance from the University of Washington.

Gerard Lee CFA
CEO, Lion Global Investors Ltd
Member of CFA Society Singapore
Gerard Lee, CFA, is CEO at Lion Global Investors. Previously, he served as chief investment officer of Temasek's Fund Management Division and CEO of Fullerton Fund Management Company. Mr. Lee has also served as deputy chief investment officer at Deutsche Asset Management Singapore, head of fixed-income sales at SBC Warburg Singapore, and head of the Government of Singapore Investment Corporation's New York City office. He is an IBF Distinguished Fellow, and he has a bachelor of science degree (honours) from the National University of Singapore.

Rani Piputri CFA
Head of Automated Intelligence Investing, NN Investment Partners
Member of CFA Society Netherlands
Rani Piputri, CFA, is the head of Automated Intelligence Investing at NN Investment Partners. The Automated Intelligence Investing team focuses on extracting behavioural premiums from financial markets by implementing data-driven strategies, largely based on factor approach and artificial intelligence technologies. Previously, she worked at Aspect Capital, a London-based quantitative multi-asset solution provider. Ms. Piputri has also served as a partner and portfolio manager at Saemor Capital and as a European equity portfolio manager at Aegon Asset Management. She started her career as an investment consultant at Ortec Finance. Ms. Piputri has served as a board member of CFA Society Netherlands and is a member of the CFA Institute Annual Conference Advisory Group. She holds the CAIA designation and earned an MSc degree in financial econometrics from Erasmus University Rotterdam.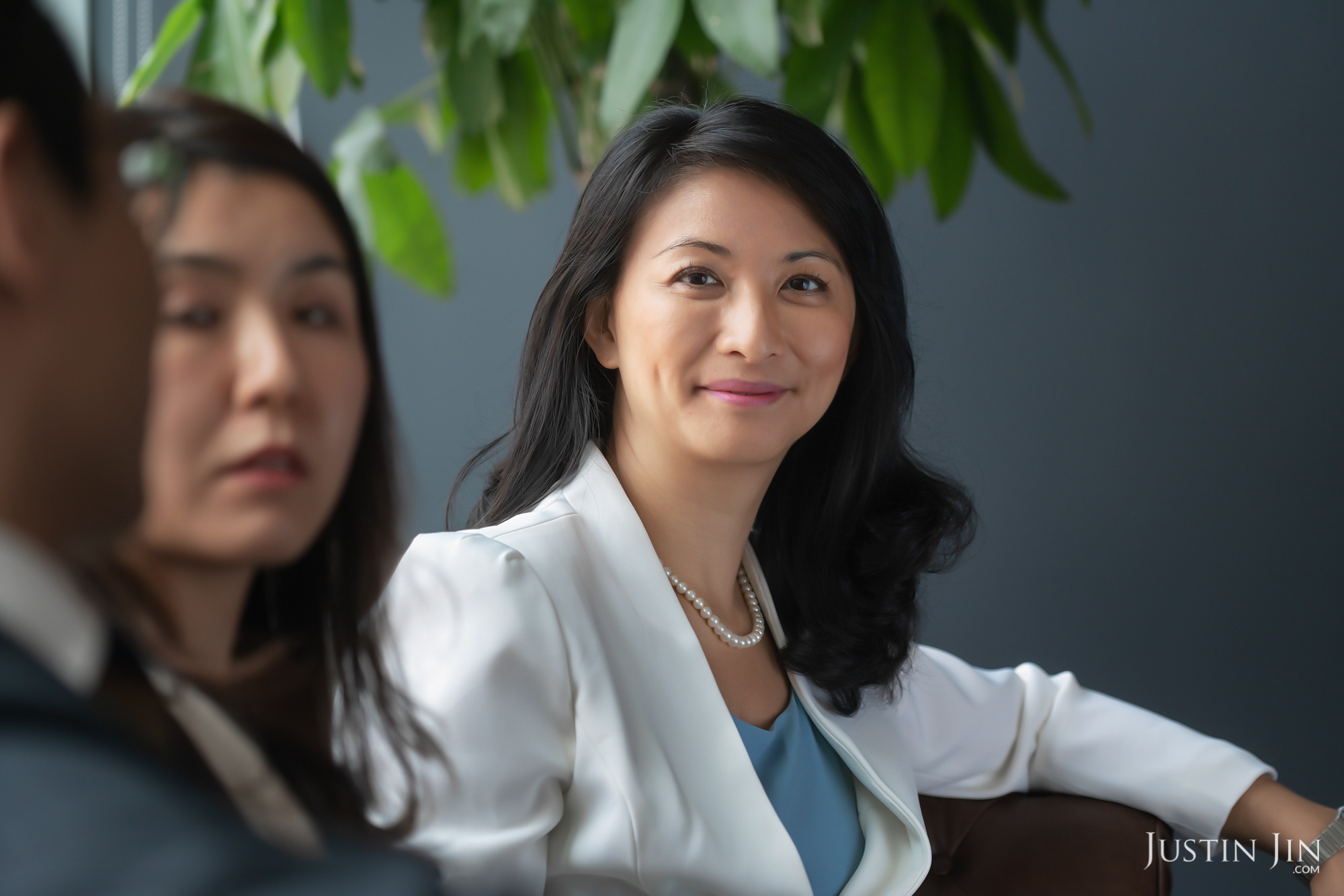 Lynn Raebsamen CFA
Partner, HSZ Group
Lynn Raebsamen, CFA, founded her own investment business in 2017 focusing on real estate and China and partners with HSZ Group in Hong Kong to develop their business in Europe. Throughout her career in Europe and Asia, she has explored many different disciplines, ranging from derivatives structuring to leading interdisciplinary teams in financial technology and building businesses from scratch. Ms. Raebsamen has worked for major investment banks, such as Credit Suisse and UBS in Switzerland, made an adventurous move to a Korean bank in Seoul, and subsequently moved to Hong Kong to work for Bloomberg.

Mohammad Shoaib CFA
Chief Executive Officer, Al Meezan Investment Management – Pakistan
Member of CFA Society Pakistan
Mr. Mohammad Shoaib, CFA is the founding CEO of Al Meezan Investment Management Ltd., the first and the only full-fledged Shariah Compliant Asset Management Company in Pakistan. Al Meezan is also the largest asset management company in Pakistan managing about USD 950 million on behalf of clients. Shoaib has over 28 years of experience in managing investment portfolios. Shoaib holds an MBA degree from IBA besides being a Chartered Financial Analyst (CFA) charter holder. Shoaib has been a speaker at various conferences on Islamic Asset Management in Middle Eastern and Far Eastern countries. He has also been featured in CFA Magazine with reference to his contribution to Islamic asset management, corporate governance and volunteer leadership roles.

Brian D. Singer CFA
Partner, Head of Dynamic Allocation Strategies Team, William Blair
Member of CFA Society Chicago
Brian Singer, CFA, partner, is the head of William Blair's Dynamic Allocation Strategies (DAS) team, on which he also serves as portfolio manager. He is also a member of the Investment Management leadership team. Before joining William Blair in 2011, Brian was the head of investment strategies at Singer Partners, LLC. Before that, Brian was the head of global investment solutions and the Americas chief investment officer for UBS Global Asset Management, where he was a member of the UBS Group's managing board and global asset management executive committee. Brian is extensively involved with the CFA Institute. He formerly served as a board member and chair of the CFA Institute board of governors. He is a member of the CFA Society Chicago and a former chair and member of the CFA Institute Research Foundation board of trustees, and in 2015, he received the CFA Institute's Distinguished Service Award, which recognizes CFA members who have made a significant contribution to the CFA Institute through their leadership, exceptional stewardship, and outstanding service. Brian has written extensively on global portfolio, currency, and performance issues, and co‐wrote the seminal Determinants of Portfolio Performance II: An Update with Gary Brinson and Gilbert Beebower. In 2009 Brian was the lead author of Investment Leadership and Portfolio Management from Wiley Publishing. In 2018 the CFA Society Chicago awarded Brian the Hortense Friedman Award for Excellence, and in 2015 The Spaulding Group inducted Brian into the Performance and Risk Management Hall of Fame. Brian serves on the endowment investment committee for Exeter College at Oxford University; he is chairman of the "Free to Choose Network," which is inspired by the ideas of economist Milton Friedman; and he serves as a member of the Rehabilitation Institute of Chicago Keystone board. Brian received a B.A. in economics from Northwestern University and an M.B.A. from the University of Chicago's Booth School of Business.

George Spentzos FSIP, CFA
Director, LNG Capital LLP
Kingsbury House, 15-17 King Street
London SW1Y 6QU
United Kingdom
Member of CFA Society France, CFA Society United Kingdom
George Spentzos, CFA, FSIP, is a Director at LNG Capital, Board Member at CFA Institute and non-executive director at NOW Bank. Most recently, he was managing director at Société Générale in London. Prior to that, Spentzos ran the Portfolio Advisory Group at Credaris, a UK-based asset manager. Prior to that, Spentzos was head of structured credit at Brevan Howard Asset Management after having worked for three years at another hedge fund, Cheyne Capital, where he managed a $1.3 billion long/short credit fund. He started his financial career at Nomura International, where he traded credit derivatives and corporate bonds for the bank. Before completing his MBA, he spent ten years at Amoco Petroleum (Canada, USA) in a variety of chemical engineering and business development roles. For the past 15 years, Spentzos has been an engaged CFA Institute member. His volunteer efforts include working on the Council of Examiners with a two-year term as chairman, authoring CFA curriculum, and serving his local member society in a number of board capacities including chairman. He is also a fellow of the CFA Society United Kingdom. Spentzos earned an undergraduate degree in chemical engineering from the University of British Columbia and an MBA in finance (Beta Gamma Sigma) from the University of Denver. He is also an Executive Advisory Board member of Daniels College of Business at the University of Denver.
Susan Spinner CFA
Managing Director, CFA Society Germany
Member of CFA Society Germany
Richard Stott
Founding Partner and CEO, Connectum
Member of CFA Society Norway
Richard Stott is a founding partner, CEO, and CIO of Connectum Capital Management AS, one of Norway's first fee-only wealth management companies. Apart from management and key relationship responsibilities, Mr. Stott has responsibility for the company's investment policy and heads its investment committee. Prior to moving to Norway and starting Connectum, he worked in both the UK and Switzerland for a number of institutions such as Coutts and J. Rothschild International. Mr. Stott was also a co-author of the book "The 7 Secrets of Money – the insider's guide to personal investment success." A founder member and past president of CFA Society Norway, he has also served as the Chairman of the British Norwegian Chamber of Commerce. Mr. Stott has a degree in finance and accounting from Leeds Metropolitan University and Hochschule Bremen.
Phillip Sundquist CFA
Managing Director, Sundquist Advisory LLC
Member of CFA Society Switzerland

Nerina Visser CFA
ETF Strategist & Advisor, Director, Co-owner of etfSA Portfolio Management Company (Pty) Ltd, President, CFA Society South Africa
Member of CFA Society South Africa
Nerina Visser, CFA, is an ETF strategist and adviser and a director of the etfSA Portfolio Management Company, where she oversees the management of specialist investment portfolios of exchange-traded products for a broad range of clients. She serves as president on the board of CFA Society South Africa, chair of the ETF Standing Committee of the Association of Savings and Investments in South Africa, and a member of the Johannesburg Stock Exchange Issuer Regulation Advisory Committee. Ms. Visser is a co-founder of the South Africa chapter of Women in ETFs, serves on the Editorial Advisory Committee of the Collective Insight publication, and is a retirement fund trustee. She was recognized by the Financial Mail in its Analyst of the Year Awards and by CEO Magazine as one of the Most Influential Women in Business and Government in the Financial Services (Banking) category in South Africa. Ms. Visser was also recognized by CFA Institute as Volunteer of the Year in the EMEA region. She earned a BSc in mathematical statistics and applied mathematics from the University of Stellenbosch and an MBA specialising in finance from the Stellenbosch Graduate School of Business.
Interested in Volunteering?