Education Advisory Committee
Purpose
The Education Advisory Committee (EAC) is responsible for providing oversight and guidance to the processes by which CFA Institute develops the competency framework, Global Body of Investment KnowledgeTM (GBIK), Bodies of Knowledge (BOK), curricula for the CFA Program, CIPM Program and any other program curriculum materials that are developed and administered by CFA Institute.
An EAC member:
Makes recommendations for development of the practice analysis process by which the individual program Bodies of Knowledge (BOK) and competencies are developed.
In collaboration with the curriculum team, selects BOK sections and competencies to be reviewed each year and sets priorities for the year.
Assists in development of specialized BOK and competencies.
Ensures that the program curricula are in line with practice analysis, individual program BOK and test specifications.
Provides guidance in the process of managing working body members.
Collaborate with CFA Institute Strategic Divisions (Credentialing; Professional Learning; Research, Advocacy, and Standards) and leverage the practice analysis process to support their strategic objectives.
Identify, evaluate, and recommend potential areas of practice for future programs at CFA Institute.
Other activities as designated by the CFA Institute staff and Board of Governors.
If you have any questions regarding the EAC, please send an email to [email protected]
Committee Members
The Education Advisory Committee is comprised of a diverse group of 12 members who reside in the following 10 countries/regions: Argentina, Australia, China, India, Portugal, Romania, Singapore, Switzerland, United Kingdom and United States.
Cristina Brízido CFA
Chair
Cristina Brízido, CFA, is Chief Investment Officer at the asset management company of Caixa Geral de Depósitos Bank (CGD). She leads an investment team responsible for the design, implementation, and management of investment solutions for individual and institutional clients. Previously, Brízido was the Head of the Wealth Management unit. Prior to that, she was an Equity Analyst since joining the firm in 2001. Brízido has been involved in the financial services industry for over 15 years and has leveraged expertise on a variety of investment areas such as: portfolio management, wealth management, manager selection, and alternative investments. Brízido graduated with an Economics degree from Nova School of Business and Economics (Nova SBE).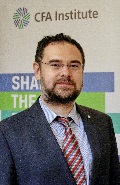 Adrian Codirlasu PhD, CFA
Vice Chair
Adrian Codirlașu, CFA, PhD, is a senior banker with over 18 years of experience in banking and financial markets and has held the CFA designation since 2006. He also holds the title of Doctor of Economics, with a specialization in international finance. Mr. Codirlasu has 5 years of experience as a Senior Options Dealer with ING Bank and 7 years of experience as a Risk Director within a Top 5 international bank operating in Romania, being in charge with managing financial risk (market and liquidity risk), operational risk and reputational risk. Previously, Adrian has been a Senior Economist in the research department of the National Bank of Romania for about 6 years. In addition, Mr. Codirlasu is an Associate Professor with DOFIN – Doctoral School of Finance and Banking for over 18 years and CEFIN - Center for Advanced Research in Finance, where he teaches subjects for MSc students such as econometrics, derivatives, fixed income, FX and money markets and risk management. For the last 12 years Mr. Codirlasu has been a member of the CFA Romania Board of Directors, as well as the association's President from 2009 to 2011 and from 2015 to present-day. For his volunteer activity, Adrian was awarded Volunteer of the Year EMEA East by CFA Institute in 2012.

Joanna Chang, CFA, is an Investment Risk Specialist at the Australian Prudential Regulation Authority (APRA). She provides advice and guidance on investment risk matters relating to regulated institutional asset owners such as pension funds and insurers. Australian pension fund assets under APRA regulation total around $A2 trillion. Ms. Chang's area of specialisation is investment risk governance covering key aspects of the investing process from investment objective and strategy formulation through to implementation. Her scope of work covers all asset classes from fixed interest and listed securities through to alternative assets. She regularly engages with both domestic and overseas peer regulators, industry bodies and investment service providers on investment related matters. This has included working with the UK Financial Conduct Authority on policy initiatives. In addition, she has recently served as a Technical Advisor to the Australian House of Representatives Standing Committee on Economics. Ms. Chang's current areas of focus include climate change financial risks. She is regularly sought out as a conference speaker on this topic and was also involved with the work of the Australian Sustainable Finance Initiative.

Prior to joining APRA, Ms. Chang held several roles within Westpac Banking Corporation's institutional division across financial markets trading and corporate advisory areas.

Ms. Chang's volunteer work with CFA Institute includes exam question reviews and engagement on online member education initiatives. She holds a Commerce degree majoring in Accounting and Finance from Macquarie University (Sydney) and a GARP Financial Risk Manager designation.

Lautaro Veliz Espeche CFA
Lautaro Veliz Espeche, CFA is Vice president and CIO for BBVA Argentina Asset Management, leading a team responsible for the management of mutual funds for individual and institutional investors. He is part of the Board of Directors of the Mutual Funds Association in Argentina (CAFCI) and in the past he was Vice president and Secretary.Prior to become CIO of the company, he was Analyst with focus on the Latam Financial Sector. In addition, Mr. Veliz Espeche teaches Fixed Income in Master of Finance at Universidad Del Cema, where he is finishing its PhD. He became a CFA charterholder in 2012 and is a graduate of the London Business School Senior Executive Programme.
Anubhuti Gupta CFA, CIPM
Head of Investments APAC, Rosenberg Equities and Head of AXA-IM Singapore
Anubhuti Gupta, CFA, is the Head of AXA-IM Singapore and Head of Investment for APAC, Rosenberg Equities. She is responsible for the Asian investment strategies and client outcomes and is a member of the global Rosenberg Management Committee and Investment Committee. Prior to her current role, she served as the Head of Portfolio Management, Director and Deputy Chief Investment Officer for the region since 2015 and initially joined AXA IM in 2005 as a Portfolio Manager. Anubhuti was an intern with a Singapore-based hedge fund before joining AXA IM. Anubhuti holds a MSc in Financial Engineering from the NTU Graduate School of Business and a BEng from Nanyang Technological University (NTU) in Singapore. She also has a certificate in Computational Finance from Carnegie Mellon University Tepper School of Business. She is a holder of the Chartered Financial Analyst, Chartered Alternative Investment Analyst, and Certificate in Investment Performance Measurement designations.

She is a member of the CFA Institute Education Advisory Committee (2015 – Present), Executive Committee (2016 – 2019) & Advisory Board (2019 – Present) of Singapore Chapter of CAIA Institute and the Nominating Committee for CFA Institute Board of Governors (2020 – Present)

Fan Huang CFA, CPA, is currently Executive Director, Head of China Index Business with MSCI. before this role, he led the Private Banking unit for United Oversea Bank (China) LTD. Prior to his UOB (China) position, he was the Head of Private Banking with Bank of Ningbo. Before joining Bank of Ningbo, he ran the Asset & Wealth management business for Deutsche Bank in China for 9 years. He had also worked for HSBC, CIBC, TD Canada Trust, and other local Asset management companies.

He is a senior practitioner in the Asset & Wealth management segment of the financial industry with over 25 years of experience. Before and concurrent with his career in Finance, he has been conducting academic teaching and researching, and is a leader of campus finance laboratories with various reputable local universities.

Mr. Huang is a columnist for Financial Times (Chinese Version), Forbes (Chinese Version) and other local mainstream financial medias. He has also have published two popular Chinese books: "Growing the wealth through easy ways" and "Effective Equity Investment Strategy to Surfing Market Turbulence".

Brishni Mukhopadhyay, CFA is the ESG Product Specialist and Co-Chair of the ESG Strategic Steering Committee for Western Asset Management, which is a Specialist Investment Manager of Franklin Resources, Inc, the holding company for Franklin Templeton Investments and its subsidiaries. Prior to this, Brishni worked at Lazard Asset Management, J.P. Morgan Asset Management and J.P. Morgan Investment Bank.

Brishni is currently the Chair of the ESG Working Group responsible for the Certificate in ESG Investing, having previously served as the Vice-Chair of the working group with CFA UK since inception in 2017. Brishni holds a M.S. in Operations Research (Finance) from Columbia University, M.Eng. in Mechanical Engineering from the University of Sheffield and is a CFA charterholder.

Kampoleak Pal, CFA, is Senior Director, Head of Structured Investments at Guardian Life, where he is responsible for equities risk management, commodities and hedging programs. He also oversees derivatives trade execution and derivatives activity including interest rate, currency, credit and equity.

On the technical side, Kampoleak leads Guardian's indexed equity and commodity ETF portfolios, dynamic mark-to-market asset hedging, and guaranteed minimal withdrawal benefit hedging programs. Kampoleak has over 25 years of investment experience in financial markets, trading, risk management and portfolio management across several industries.

He holds an engineering degree in computer science from Ecole Internationale des Sciences du Traitement de l'Information (EISTI) in Paris and an MBA from the Wharton School of the University of Pennsylvania. Additionally, Kampoleak received a post graduate certificate in Artificial Intelligence from the MIT Sloan School of Management and is a member of the CFA Institute and the CFA Society of New York. Kampoleak speaks French and Cambodian and has a passion for mathematical modeling/analytics, travel and sports.

Srivathsan Ramachandran CFA
Srivathsan Ramachandran, CFA, is a sell-side analyst with over a decade of experience, and he has held the CFA designation since 2009. Sri has worked at Spark Capital Advisors since 2006 where he has lead research efforts across sectors. Mr. Ramachandran has experience in the Indian / Global Technology sector including internet and Exchanges. He has authored over 50 initiation and thematic research notes across sectors such as technology, Tech distribution, Internet and exchanges. Mr. Ramachandran has been a CFA Institute grader since 2015, a member of the Practice Analysis working body and a mentor for the research challenge since its inception in India.

Patrick Ranzijn CAIA, FRM, CFA
Patrick Ranzijn, CFA, is global co-lead of products and finance education at UBS Business University, where he also authors learning guides and books and serves as an expert for the Wealth Management Master program. He previously founded Fontana Capital Management; served as managing director, CEO, and senior trader at All Options Helvetia AG; and traded at Timber Hill and Interactive Brokers Group, Inc. Mr. Ranzijn also holds the CAIA (Chartered Alternative Investment Analyst) and FRM (Financial Risk Manager) designations. He is currently a contributor to a finance curriculum for social entrepreneurs in conjunction with the World Economic Forum.

Isaiah Schulze, CFA is a Managing Director for the frontier and emerging markets investment platform of Cerberus Capital Management, a global leader in alternative investing with approximately $55 billion in AUM. Isaiah's focus is on the underwriting and execution of private equity deals in geographies across Asia and Africa, with a particular emphasis on ESG and impact measurement. Isaiah joined Cerberus in 2018 when Cerberus acquired SGI Frontier Capital where he was a Senior Partner from 2013 to 2018.

Isaiah graduated magna cum laude from the School of Foreign Service at Georgetown University. He is proficient in Mandarin Chinese and has achieved the Chartered Financial Analyst designation. In addition, he serves on the CFA Education Advisory Committee. Isaiah has contributed as a speaker at investment conferences including those hosted by JP Morgan, Private Equity International, EMPEA, and CFA Society New York, among others. Isaiah lives in NYC and enjoys amateur triathlon training in his free time.

Stefan Whitwell CFA, CIPM
Co-Founder and Chief Investment Officer, Whitwell & Co., LLC
Stefan Whitwell, CFA, CIPM, is the Co-Founder and Chief Investment Officer of Whitwell & Co., LLC. Stefan is a sought-after advisor and business funding expert serving difference makers and business owners. He helps clients define and implement strategies to support their most valued life-goals through asset protection, tax planning, investing, business exit planning, wealth transfer planning and high impact philanthropy.

Stefan started his career working alongside some of the most globally respected bankers at James D. Wolfensohn, Inc., Goldman Sachs and Credit Suisse First Boston. He has worked in New York City, London, Hong Kong and Tokyo and has a first-hand understanding of the global markets.

Stefan graduated from the Wharton School of Business at the University of Pennsylvania and subsequently earned the Chartered Financial Analyst designation and Certificate in Investment Performance Measurement, both from the CFA Institute where he serves on their global Educational Advisory Committee. In addition, Stefan serves on the Long Center Corporate Advisory Board and the Baylor Scott & White - Development Advisory Board.

Marie Winters CFA, CAIA
Senior Vice President, Northern Trust Asset Management
Marie Winters, CFA, CAIA is a senior vice president for Northern Trust Asset Management, leading a research team supporting high yield and investment grade corporate bond portfolios. She also oversees sustainable investing initiatives for Northern's Fixed Income group globally. Previously, Winters began her career at JPMorgan Chase where she served as a leader and participant in new departments and initiatives for high yield securities, distressed investing, and M&A due diligence.

Winters is a former chair and executive officer of CFA Society Chicago. She also currently serves as president of Chicago Finance Exchange, a professional organization for senior women in finance. Marie earned her MBA in finance and economics at Washington University and her BA in mathematics at Knox College.
Interested in Volunteering?