Nominating Committee
The purpose of the Nominating Committee (the "Committee") is:
The Committee is established by the Bylaws of CFA Institute (the "Bylaws") to carry out the responsibilities delegated by the Board of Governors (the "Board") of CFA Institute relating to CFA Institute's processes and procedures for Governor nominations, in accordance with and subject to the Bylaws that may be amended from time to time;

To identify, vet and nominate qualified candidates for Governor and Officer positions of CFA Institute, in accordance with and subject to the Bylaws; and

To support CFA Institute's leadership position in the investment profession by recognizing individuals whose achievements, examples, or contributions have helped raise the standards of education, integrity and professional excellence.
Contact the Nominating Committee

Daniel Gamba CFA
Chair
Managing Director, Co-Head Fundamental Equities, and a member of the Global Operating and Human Capital Committees, BlackRock, Inc.
Member of CFA Society New York
Daniel Gamba, CFA, is managing director, co-head of fundamental equities, and a member of the Global Operating Committee and Human Capital Committee at BlackRock. He leads BlackRock's fundamental equities business across US, Europe, global, emerging markets, hedge funds, thematic and sectors, and sustainability active equity strategies.

He previously served as global head of active equity product strategy at BlackRock, responsible for platform strategy, product development, and business activities to drive growth across active equities in the Americas, EMEA and Asia-Pacific. Prior to that role, Gamba was head of iShares Americas Institutional Business and co-head of US iShares where he led business strategy, client service, and business development for iShares ETFs in the Americas. Gamba joined Barclays Global Investors (BGI) in 2000, before its merger with BlackRock in 2009. At BGI, he was the CEO of the Latin America and Caribbean business. Prior to BGI, Gamba was a consultant with AT Kearney's financial institutions group and worked at Procter & Gamble in Latin America.

In his volunteer capacity at CFA Institute, Gamba served as Chair of the Audit and Risk Committee and previously as co-chair of the Society Partnership Advisory Council. Previously, he was a member of the Executive Advisory Board of the Education Advisory Committee and of the Claritas (now Investment Foundations) Advisory Committee. Gamba is also co-chair of Somos Latinx network at BlackRock and is a board member of Northwestern University's alumni association. Gamba earned a BS degree in industrial engineering from Pontificia Universidad Católica del Perú and an MBA in finance and economics from the Kellogg School of Management at Northwestern University.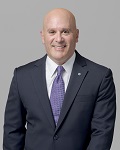 Dan Fasciano CFA
Governor
Director, GW&K Investment Management
Member of CFA Society Boston
Dan Fasciano, CFA is a Director at GW&K Investment Management, a $58 billion asset manager headquartered in Boston, Massachusetts. In his role, Dan is responsible for strategic leadership and growth of GW&K's private wealth management practice.

Before joining GW&K in June 2021, Mr. Fasciano spent more than 10 years at BNY Mellon Wealth Management, most recently as National Director of Portfolio Management where he was a member of the firm's Investment Strategy Committee and chaired its National Account Review Committee.

Prior to BNY Mellon, Mr. Fasciano served as the Treasury Director for the State of Florida and Head of the U.S. Investment office for UK-based Aviva Investors.

Mr. Fasciano formerly served as the chair of the CFA Institute Presidents Council and as the Presidents Council representative for the Eastern United States. He is a past board member and chair of CFA Society Boston. He received his BA from the University of New Hampshire and his MBA from Boston University. In addition to the CFA designation, Dan also maintains the Chartered Market Technician (CMT) and Charted Alternative Investment Analyst (CAIA) designations.


Geoffrey Ng CFA
Governor
Director, Fortress Capital Asset Management
Member of CFA Society Malaysia
Geoffrey Ng, CFA, is a director at Fortress Capital Asset Management, a Pan-Asian investment management company. He has over two decades of investment management and leadership experience. Previously, Mr. Ng served as chief executive officer and executive director at Hong Leong Asset Management; senior vice president, global emerging markets, at Dubai Investment Group; and chief investment officer at Pacific Mutual Fund.

Mr. Ng is the independent non-executive chairman of Kronologi Asia Berhad, where he previously served as an independent non-executive director and is a member of the Audit, Nomination, Remuneration, and Share Grant Plan Committees. He holds the Certified Financial Planner designation and earned the Fintech: Future Commerce certification from the Massachusetts Institute of Technology and a CFA Institute Investment Foundations Certificate.

Geoffrey has served on the Education Advisory Committee (vice chair and chair of the Practice Analysis subcommittee) and Council of Examiners, as well as vice president and treasurer for CFA Society Malaysia. Mr. Ng earned a Bachelor of Commerce (high honors) with a double major in accounting and finance from the Sprott School of Business at Carleton University. He is a CFA charterholder, holds a CFP certification, and has completed the MIT Fintech: Future Commerce program by the Massachusetts Institute of Technology.

Greg Filbeck CFA, CIPM
President Council Representative Appointment
Director, Black School of Business Samuel P. Black III Professor of Finance and Risk Management Penn State Erie, the Behrend College

Pieter van Putten CFA
President Council Representative Appointment
Managing Director, CFO/COO, Pelargos Capital
Anubhuti Gupta CFA, CIPM
CFA Program Appointment
Head of Investments APAC, Rosenberg Equities and Head of AXA-IM Singapore
Anubhuti Gupta, CFA, is the Head of AXA-IM Singapore and Head of Investment for APAC, Rosenberg Equities. She is responsible for the Asian investment strategies and client outcomes and is a member of the global Rosenberg Management Committee and Investment Committee. Prior to her current role, she served as the Head of Portfolio Management, Director and Deputy Chief Investment Officer for the region since 2015 and initially joined AXA IM in 2005 as a Portfolio Manager. Anubhuti was an intern with a Singapore-based hedge fund before joining AXA IM. Anubhuti holds a MSc in Financial Engineering from the NTU Graduate School of Business and a BEng from Nanyang Technological University (NTU) in Singapore. She also has a certificate in Computational Finance from Carnegie Mellon University Tepper School of Business. She is a holder of the Chartered Financial Analyst, Chartered Alternative Investment Analyst, and Certificate in Investment Performance Measurement designations.

She is a member of the CFA Institute Education Advisory Committee (2015 – Present), Executive Committee (2016 – 2019) & Advisory Board (2019 – Present) of Singapore Chapter of CAIA Institute and the Nominating Committee for CFA Institute Board of Governors (2020 – Present)
Awards Philosophy and Recipients