Society Partnership Advisory Council
The purpose of the Society Partnership Advisory Council (the "Council") is established by the Board of Governors (the "Board") to assist CFA Institute with the followings matters related to CFA Societies:
Facilitate the alignment between CFA Institute and CFA societies that is critical in advancing our mission globally and delivering value to our members.
Establish a unified voice on CFA Society related matters in order to represent CFA Society interests to the Board.
Ensure continued strength in the relationship between CFA Institute, the Presidents Council, and CFA Societies.
Provide feedback and guidance on CFA Society business to the Board, Presidents Council, CFA Institute staff, and CFA Societies.
Contact the Society Partnership Advisory Council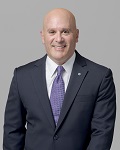 Dan Fasciano CFA
Co-Council Chair, Governor
Director, GW&K Investment Management
Member of CFA Society Boston
Dan Fasciano, CFA is a Director at GW&K Investment Management, a $58 billion asset manager headquartered in Boston, Massachusetts. In his role, Dan is responsible for strategic leadership and growth of GW&K's private wealth management practice.

Before joining GW&K in June 2021, Mr. Fasciano spent more than 10 years at BNY Mellon Wealth Management, most recently as National Director of Portfolio Management where he was a member of the firm's Investment Strategy Committee and chaired its National Account Review Committee.

Prior to BNY Mellon, Mr. Fasciano served as the Treasury Director for the State of Florida and Head of the U.S. Investment office for UK-based Aviva Investors.

Mr. Fasciano formerly served as the chair of the CFA Institute Presidents Council and as the Presidents Council representative for the Eastern United States. He is a past board member and chair of CFA Society Boston. He received his BA from the University of New Hampshire and his MBA from Boston University. In addition to the CFA designation, Dan also maintains the Chartered Market Technician (CMT) and Charted Alternative Investment Analyst (CAIA) designations.


Aaron Brown CFA
Co-Council Chair, Presidents Council Chair
Manager, Treasury & Deputy City Treasurer, City of Calgary
Member of CFA Society Calgary

Marshall Bailey CFA
Governor
Non-executive Chairman, MUFG Securities EMEA plc, and Non-executive Chair, Financial Services Compensation Scheme (FSCS)
Member of CFA Society United Kingdom
Marshall has substantial experience of leading complex international committees and boards. His background spans a range of sectors, including banking and capital markets, insurance, and regulation. His career spans over 30 years on three continents. In June 2018 he was made an Officer of the Most Excellent Order of the British Empire (OBE) for his contribution to financial services, and to charity. He cares passionately for financial literacy, market confidence, and good outcomes for investors.

Marshall Bailey is Chairman of MUFG Securities EMEA and MUS(Asia) in Hong Kong, and also Chairs the Financial Services Compensation Scheme, as appointed by the FCA and Bank of England. In the past he has been Chairman of CIBC World Markets Plc in London, a Representative of the Saudi Arabian Public Investment Fund (PIF) on the board of the largest bank in the Kingdom, National Commercial Bank, Jeddah, where he was Chair the Group Risk Committee, announcing a $15 billion merger with Samba Financial Group. Also, as Chairman, he has completed a consolidation of of LCH Group Holdings, the world's largest derivatives central clearing house, while on the Board of its parent, the London Stock Exchange Group during their $29 billion acquisition of Refinitiv. On these boards he has Chaired, or been a member of the Nominations, Risk and Remuneration Committee.

Marshall holds a BA in Political Science from the University of Winnipeg, a Master of Arts in International Affairs and History from the Graduate Institute of International and Development Studies in Geneva, Switzerland and is a Chartered Financial Analyst. He has also completed the FT Non-Executive Directors' Diploma, and is currently completing the Certificate in ESG Investing, offered by the CFA Institute via the UK. In his spare time, Marshall is a sailor and is a qualified Ocean Yachtmaster with the Royal Yachting Association. He also buys himself a new putter each year in his seemingly futile pursuit of lower golf scores.

Joshua Howard CFA
Presidents Council Vice Chair
Head, Global Institutional Product, RBC Global Asset Management (U.S.) Inc.

Randi Tolber CFA
Head, Global Society Relations, CFA Institute
Head, Global Society Relations, CFA Institute