The purpose of the Investment Subcommittee (the "Subcommittee"), is to carry out the responsibilities delegated by the Board of Governors (the "Board") of CFA Institute regarding oversight of CFA Institute's financial reserves (the "Reserves"), consistent with Board directives.
Contact the Investment Subcommittee

Punita Kumar-Sinha PhD, CFA
Chair
Investment Professional & Board Member. Independent Director, Infosys, JSW Steel, Bharat Financial & Others. Managing Partner, Pacific Paradigm Advisors Boston/India
Member of CFA Society Boston
Punita Kumar-Sinha, PhD, CFA, has focused on investment management and governance roles during her 30-year career. Ms. Kumar-Sinha has been investing in emerging markets since the late 1980s and pioneered some of the first foreign investments in the Indian subcontinent in the early 1990s.

Currently, she is the Founding Partner, Pacific Paradigm Advisors, an independent investment advisory firm focused on Asia, and a Senior Advisor to companies in India and North America. She serves as an Independent Director and Chairs Audit, Stakeholders Relationship, and Risk Committees for many boards. Prior to this, Ms. Kumar-Sinha was a Senior Managing Director of Blackstone and the Head & Chief Investment Officer of Blackstone Asia Advisors. Prior to joining Blackstone, Ms. Kumar-Sinha was a Managing Director and Senior Portfolio Manager at Oppenheimer Asset Management Inc. and CIBC World Markets, where she also managed India and Asia funds. She has also worked at Batterymarch (a Legg Mason company), Standish Ayer & Wood (a BNY Mellon company), JP Morgan, and IFC/World Bank.

Ms. Kumar-Sinha is frequently featured in the media and at global conferences as an expert commentator on Asian capital markets and women's issues. Ms. Kumar-Sinha has a PhD and a Master of Finance from the Wharton School, University of Pennsylvania. She received her undergraduate degree in Chemical Engineering with Distinction from the Indian Institute of Technology, New Delhi. She has an MBA and is a CFA charterholder. Ms. Kumar-Sinha is a member of CFA Institute, has been a member of the CFA Society Boston and India, a TiE Charter Member, and a member of the Council on Foreign Relations. Ms. Kumar-Sinha has been awarded the Distinguished Alumni Award from IIT Delhi. She has also been awarded the "Best Woman Director" in 2016 by Asian Center for Corporate Governance and Sustainability.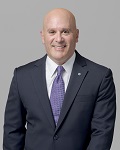 Dan Fasciano CFA
Governor
Director, GW&K Investment Management
Member of CFA Society Boston
Dan Fasciano, CFA is a Director at GW&K Investment Management, a $58 billion asset manager headquartered in Boston, Massachusetts. In his role, Dan is responsible for strategic leadership and growth of GW&K's private wealth management practice.

Before joining GW&K in June 2021, Mr. Fasciano spent more than 10 years at BNY Mellon Wealth Management, most recently as National Director of Portfolio Management where he was a member of the firm's Investment Strategy Committee and chaired its National Account Review Committee.

Prior to BNY Mellon, Mr. Fasciano served as the Treasury Director for the State of Florida and Head of the U.S. Investment office for UK-based Aviva Investors.

Mr. Fasciano formerly served as the chair of the CFA Institute Presidents Council and as the Presidents Council representative for the Eastern United States. He is a past board member and chair of CFA Society Boston. He received his BA from the University of New Hampshire and his MBA from Boston University. In addition to the CFA designation, Dan also maintains the Chartered Market Technician (CMT) and Charted Alternative Investment Analyst (CAIA) designations.


Karina Litvack
Past Governor
Non-Executive Director, Eni S.p.A.; Co-Founder and Chairman, Climate Governance Initiative
Karina Litvack serves on the boards of Italian Oil & Gas major Eni S.p.A., where she chairs the Sustainability & Scenarios Committee and serves on the Remuneration Committee; and CFA Institute, home of the professional qualification for investment management professionals, where she chairs the ESG Working Group of the Investment Subcommittee and serves on the Governance Committee.

Since the passage of the Paris Agreement at CoP21 in 2015, Karina has also been working to build a global network for fellow board directors to share experiences, engage with technical experts and stakeholders, access specialized training, and help to drive more effective climate transition strategies in the boardroom. Under the auspices of the World Economic Forum, she cofounded the Climate Governance Initiative (CGI), home of the WEF Principles for Effective Climate Governance for Non-Executive Directors, where she chairs the Governing Board. The CGI operates through a network of 17 national and regional Chapters in APAC, EMEA, and the Americas, often in collaboration with local institutes of directors.

Previously, Karina had a 25-year career in finance, latterly running the governance and sustainable investment activities of UK asset manager F&C Investments, which his now BMO Global Asset Management, a unit of the Bank of Montreal.

Shirley Ogden CFA
PCR Appointment
Director of Investments, Lee Financial Corporation Dallas, TX
Member of CFA Society Dallas/Ft. Worth

Ming Shu CFA
PCR Appointment
Partner, Lingfeng Capital Management
Member of CFA Society Hong Kong
Leilani S. Hall CFA, CIPM, CAIA
CFA Institute Staff Appointment
Senior Head, Codes and Standards, Global Industry Standards, CFA Institute
Member of CFA Society Washington, DC

Rhodri G. Preece CFA
CFA Institute Staff Appointment
Senior Head, Research, CFA Institute
Member of CFA Society United Kingdom
Rhodri Preece is Senior Head, Research for CFA Institute and is responsible for leading the organization's global research activities and publications, managing the research staff and collaborating with leading investment practitioners and academics. CFA Institute produces the highest-calibre research on issues and topics most relevant to the investment industry, including rigorous in-depth research, forward-looking thought leadership content, applied investment insights, and commentary on trending investment topics.
Rhodri previously served as head of capital markets policy EMEA at CFA Institute, where he was responsible for leading capital markets policy activities in the Europe, Middle East and Africa region, including content development and policy engagement.
Mr Preece is a current member of the PRI Academic Network Advisory Committee, and a former member (2014-2018) of the Group of Economic Advisers of the European Securities and Markets Authority (ESMA) Committee on Economic and Markets Analysis.
Prior to joining CFA Institute, Mr. Preece was a manager at PricewaterhouseCoopers LLP in the investment funds group (2002-2008). He has a BSc and a MSc in Economics and is a CFA charterholder since 2006.

Kim Maynard CTP
Ex-Officio
Treasurer, CFA Institute